About
Rock N' Roll Circus is a Vancouver based band whose sound will instantly remind you of the great jam rock bands of the early 70's when the electric guitar ruled the airwaves.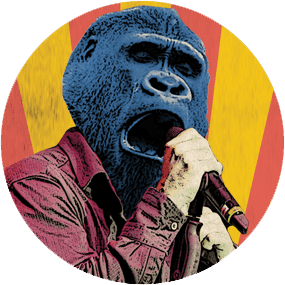 Bottle

Rockets
and
Cherry

Bombs
After releasing their self-titled debut album in 2015, Rock N' Roll Circus returned to the studio in early 2019 to record their second album Bottle Rockets and Cherry Bombs. Like the debut album, the band's new record is influenced by the Faces, Stones and Allman Brothers, but this time out the group puts more emphasis on extended guitar solos and percussion (courtesy of conga player Liam MacDonald) resulting in a sound similar to Stephen Stills' "Manassas" and the Black Crowes "Amorica". And though the lyrics this time out are a little darker, focussing on addiction, dead end jobs, femme fatales and politics, mostly this is an album that will make you want to shake your ass.
The members of Rock N' Roll Circus, singer Chris Woudstra, bassist Jeremy Holmes, percussionist Liam MacDonald, drummer John Oulton, and guitarists Aaron Moser and Scott Smith, have been part of the West Coast rock and blues scenes since the late 90's, playing and recording with such artists as Rich Hope, Barney Bentall, David Hidalgo, John Hammond, Joe Keithley, and No Sinner. The new album also has some special guest appearances by La Chinga's Chris Read, Colleen Rennison, Ashley Grant, and Darryl Havers, a Vancouver hammond organ wizard who has played with everyone from Doug Sahm to Bo Diddley. Recorded at Afterlife Studios (formerly Mushroom Studios where Led Zeppelin famously recorded), Bottle Rockets and Cherry Bombs will be released Fall 2019 on vinyl and CD as well as on all the digital platforms.
Rock N' Roll Circus sounds like I flipped on the radio 40 years ago. This is rock at its roots when it was raw and real.
Events
To find out about upcoming shows and to get the latest RRC news, please visit our Facebook page.
Connect